Our members
Contact IAAS
Phases
Sponsor a child
help children's village
Interact with us
If you have any questions or comments,
contact us
.
If you're ready to make a difference in lives of children who suffer, please
donate
.
Our strategic partners
Mission for the Destitute of Haiti
Foundation Belle Reine
Dr Leslie B. Panchula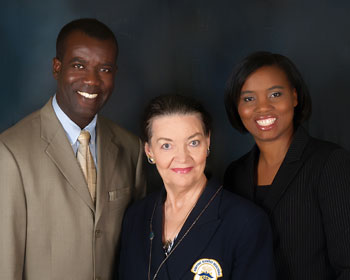 Dr. Pierre Pognon, PhD, Dr. Leslie Panchula, PhD, Sylvie Pognon, MA
Panchula was born on an Indian reservation in Pembroke, N.C. in 1932.
Panchula said she first ventured into "the white man's world" in 1949 to attend a public high school in North Carolina. 
She would go on to earn bachelor's degrees in occupational and physical therapy at Ohio State University and in business administration at the Lewis Institute in Washington, D.C.Her other degrees include a master's degree in special education from Southern Connecticut State College and a doctoral degree in learning disabilities.
DR. Leslie Panchula has spent a lifetime sharing the joy of learning with people around the world.
She first fell in love with learning under the careful guidance of her grandmother, who was an American Indian teacher and spiritual leader. 
Panchula's quest for knowledge would eventually take her to places as varied as Morocco and the Kenai Peninsula of Alaska, and earn her an international reputation as an educator, therapist and research scientist. 
The International Association of Adaptive Sciences, a wide-ranging, 50-year-old organization that develops programs for children with special educational needs, offers specialized training for adults and supports research to treat, and hopefully one day cure, AIDS. The IAAS also oversees the International Maritime University of Adaptive Sciences.
Panchula, a resident of western Lake Worth, brought the IAAS international headquarters to Palm Beach County after 9/11.The organization was formerly headquartered in the South Tower of the World Trade Center. The IAAS lost four people that day, but most of its staff was spared because they were attending a funeral in New Jersey at the time of the attack. 
Years before the international headquarter was moved here, Panchula and the IAAS had beeN active in Florida. A clinic in Broward County helped students who couldn't tolerate traditional schooling. The clinic which eventually treated 3,000 students, adapted educational programs to the students' special needs and also focused on nutrition and metabolic factors. After attending the clinic, "most of the students were remediated back into public school at their grade level," Panchula said.
Other IAAS programs have provided education, in three-to-six-week courses, to hundreds of migrant children in Florida, Connecticut, Ohio, and New York. Panchula has traveled to the Kenai Peninsula in Alaska to help teach Inuit Indians, and has led other IAAS programs in Haiti and Israeli-occupied land in the Middle East.
"We know from the past 50 years that children do not have to fail in math or reading or sciences," she said, "They can learn the fun of achievement, and the joy of who they are."